Pre-historic
The pre-historic culture of southern India, including Karnataka, is known as the hand-axe culture, in contrast to the Sohan pre-historic culture of northern India. In southern India, palaeolithic hand-axes made with quartz and quartzite have been found in many different places.
One example of a pre-historic archaeological site in Karnataka is Kibbanahalli, where archaeologists have found a variety of early stone-age tools, including hand-axes and guillotine chisels. The findings are on display at the museum of the Geology Department of the Central College, Bangalore.
Two other notable pre-historic sites in Karnataka are Maskin in the Raichur district and Brahmagiri in the Chitradurga district. Both sites show evidence of domesticated animals, including dogs, cows and sheep. The people who lived here used weapons made from copper and bronze, and adorned themselves with rings, earrings, bangles, and bead necklaces.
During the Megalithic age, towards the end of the Neolithic era, people living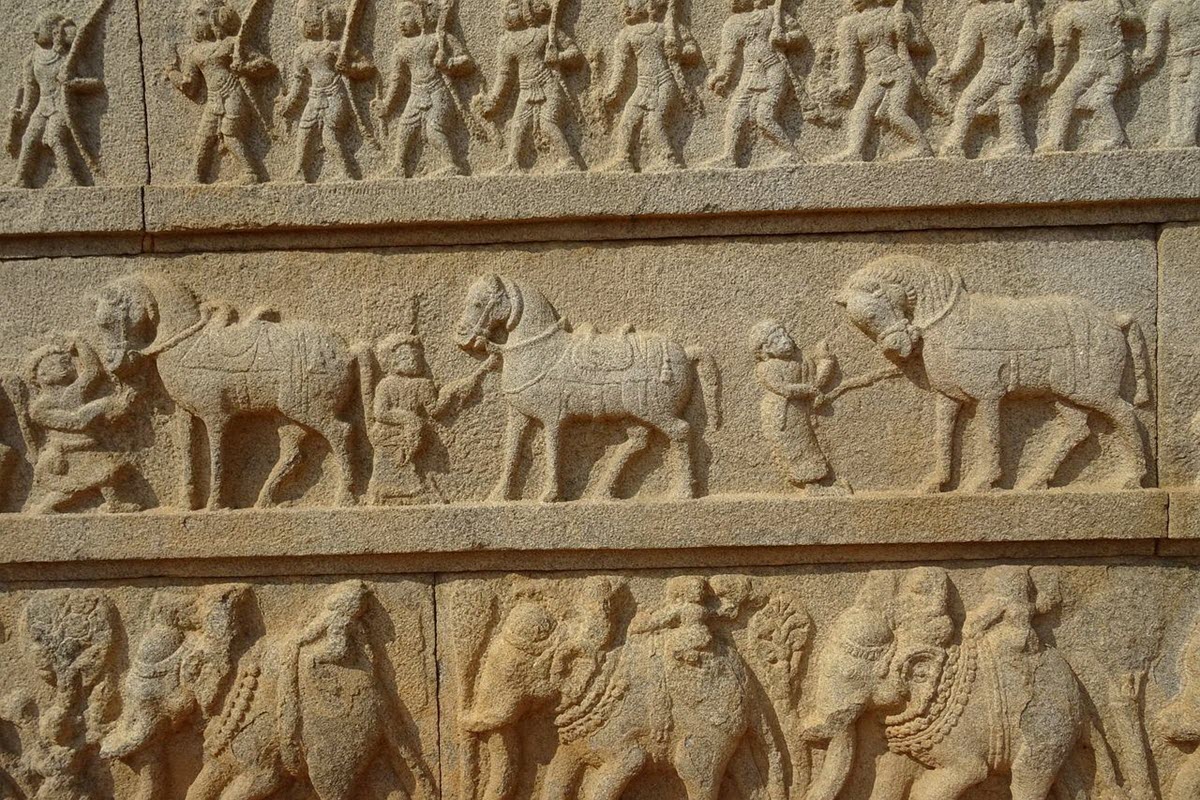 in Karnataka started using a variety of iron tools, including sickles, arrows, swords, and hammers.
Dynasties
Several great dynasties have ruled over Karnataka and impacted the culture in various ways, and in some cases, dynasties of Kannada origin expanded outside Karnataka. Notable examples of Karnataka dynasties are the Chindaka Nagas of central India Gangas, the Rashtrakutas of Manyakheta, the Chalukyas of Vengi, and the Yadavas of Devagiri.
In the medieval and early modern eras, the two major powers in Karnataka were the Vijayanagara Empire and the Bahmani Sultanate. The sultanate eventually broke up into five Deccan Sultanates, before defeating the Vijayanagara Empire in 1565.
Timeline for Karnataka empires / dynasties until the year 1799 CE
| Time period | Empire / Dynasty | Main rulers | Geographical extent of the empire |
| --- | --- | --- | --- |
| Starting period | Shatavahana | Semukha, Gouthamiputhra | Deccan comprising present Andhra, Karnataka, Maharashtra |
| CE.325 – CE.540 | Banavasi Kadamba | Mayura Sharma, Kakusta Varma | Central, Western, North-Western Karnataka |
| CE.325 – CE.999 | Gangas of Talakad | Avanitha, Durvinitha, Ratchamalla | South Karnataka, parts of Andhra and Tamil Nadu |
| CE.500 – CE.757 | Chalukyas of Badami | Mangalesha, Pulakeshin II | Parts of Karnataka, Maharashtra, Gujarath, Orrisa, Andhra |
| CE.757 – CE.973 | Rastrakutha of Malakeada | Krishna I, Govinda III, Nrupatunga Amoghavarsha I | Parts of Karnataka, Andra, Tamil Nadu, Madhyapradash, Maharashtra |
| CE.973 – CE.1198 | Chalukyas of Kalyana | Vikramadithya VI | Parts of Karnataka, Andra, Tamil Nadu, Madhyapradash, Maharashtra |
| CE.1198 – CE.1312 | Sevunas of Devagiri | Singana II | Parts of Karnataka, Andra, Maharashtra |
| CE.1000 – CE.1346 | Hoysalas of Dwarasamudra | Vishnuvardhana, Ballala II | Parts of south and coastal Karnataka, Andra, Tamil Nadu |
| CE.1336 – CE.1565 | Vijayanagara | Devaraya II, Krishnadevaraya | Most of Karnataka, Kerala, Tamil Nadu, Andhra |
| CE.1347 – CE.1527 | Bahumani | Muhammad Shah I, Muhammad Shah II | Deccan area |
| CE.1490 – CE.1686 | Sultans of Bijapur | Yusaf Addil Khan, Ibrahim Addil Shah II | Bijapur and adjoining areas |
| CE.1500 – CE.1763 | Nayakas of Kelaedi | Shivappa Nayaka, Rani Channama | Parts of Coastal Karnataka |
| CE.1399 – CE.1761 | Wodeyars of Mysore | RajaWodeyar, Ranadhira Kantirava, Chikadevaraja | Old Mysore region |
| CE.1588 – CE.1779 | Nayakas of Chitradurga | Thimmanna Nayaka, Madakari Nayaka | Parts of Central Karnataka, Andra |
| CE.1761 – CE.1799 | Sultanate of Srirangapatana | HyderAli, Tippu Sultan | Parts of Karnataka, Andhra |
The British East India Company
During the three last decades of the 1700s, the Anglo-Mysore Wars raged as the British East India Company sought to subjugate the Kingdom of Mysore. In this region, the British EIC was chiefly represented by the Madras Presidency and allied with the Maratha Empire, the Kingdom of Travancore ,and the Nizam of Hyderabad.
In 1799, the hous of Hyder Ali and Tipu was defeated and the Kindgom of Mysore dismantled. This marked the start of Company Rule in Karnataka. In 1858, formal rule under the British Crown commenced.
Indian Independence
After Indian Independence in 1947, the Indian government began reorganizing the geographical administration of the country based on language-regions. In 1956, the States Reorganization Act took the Kannada-dominated parts of Hyderabad State and Madras State and used them to form the new Mysore State, where Kannada was the official language of administration. In 1973, the name was changed from Mysore State to Karnataka State.