Bangalore is the capital and largest city of the state Karnataka, and also the third most populous city in India, after Mumbai and Delhi. Since 2014, the official name of the city has been Bengalūru, as Bangalore is the anglicised version of the ancient name for this town.
The majority language in Bengalūru is Kannada, but quite a few people can speak and understand at least some English and Hindi, especially in the tourist and service sectors. Signs are often written in both Kannada and English.
In the language Kannada, the name Bengalūru is spelt ಬೆಂಗಳೂರು.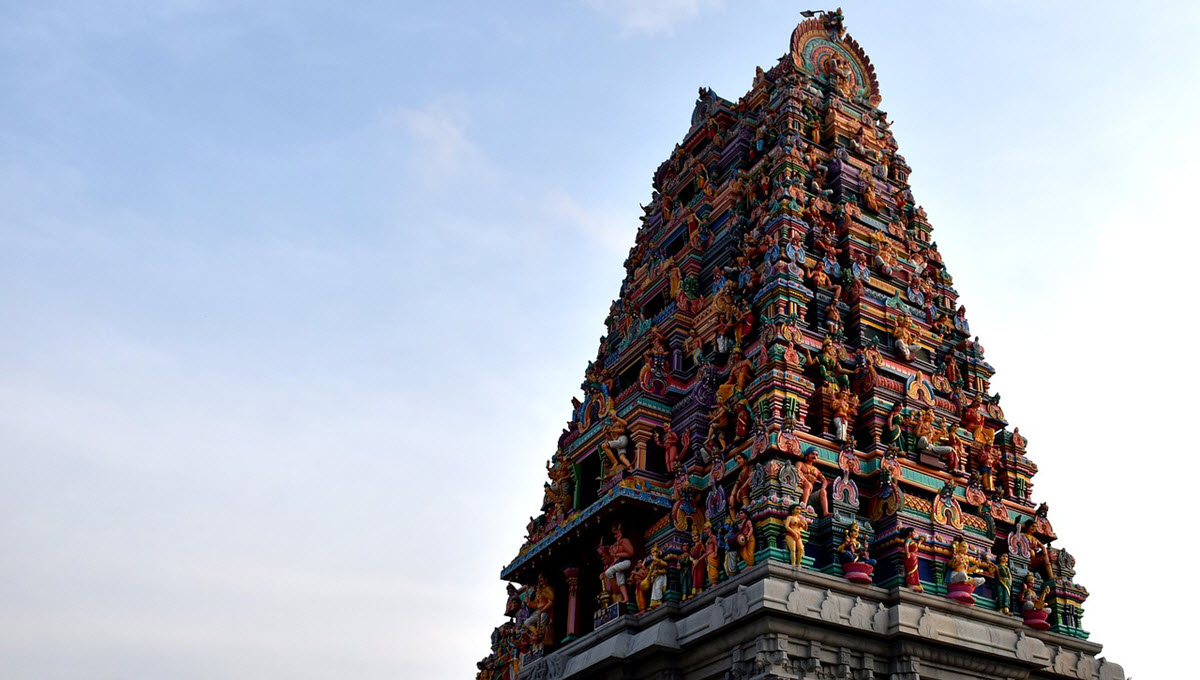 Landmarks in Bengalūru
Vidhana Soudha
This granite building, erected in the 1950s, is a great example of neo-Dravidian architecture, with plenty of cornices, chaithya arches, deep friezes, and intricately carved bases and capitals. The grand stairs in front has a flight of 45 steps.
It houses the Karnataka State Assembly, and the general public is only allowed to view it from the footpath outside the boundary.
Seshadari Iyer Memorial
A red sandstone building that houses the Bengaluru High Court of Karnataka and the State Central Library.
Bengalūru Fort (Tippu´s Fort)
This fort was erected in the 1530s and only a small part of it remains today, including gates, a dungeon and a small temple devoted to Ganesha. It is located just north of the metro station named Krishna Rajendra Market.
Bengalūru Palace
A large palace built for the Maharajahs of Mysore. Today, it is a rather run down place.
Tipu Sultan´s Palace
Built in the late 1700s, this used to be the summer palace for Tipu Sultan. It now contains a small museum with information about him.
Temples
Bengaluru is home to many temples that are open to the public. Here are a few examples:
Dharmaraya Swamy Draupadi Devi Temple. It is one of the oldest, and smallest, temples in Bengaluru. It is devoted to Dharmaraya (Yudishtra) & the Consort Draupadi, and is a focal point for the annual Karaga Festival.
Bull Temple. This is famous for its huge mammoth bull statue, which was carved from a single boulder. According to legend, the temple was built by farmers to save their fields from a bull that was stealing and damaging crops. Local farmers arrange a festival here each year.
Dodda Ganapathi. Locared next to the Bull Temple, this old temple has a huge monolith structure depicting Lord Ganesha.
Gavi Gangadeshwara Cave Temple. This temple features four impressive monolithic pillars, is dedicated to Lord Shiva and houses a rare idol of Agni (god of fire).
DakshinaMukhy Nandeeshwara Templ. A very old temple located in the heart of the city, in the Malleshwaram area. In this temple, natural mineral water flows from the mouth of Nandi. Devotees believe it to be curative.
Activities
Concerts at Bengaluru Palace Grounds
 Jawaharlal Nehru Planetarium, at the Bangalore Association for Science Education. Shows are offered in Kannada and English.
HAL Aerospace Museum, run by the large aerospace company Hindustan Aeronautics Limited (HAL).
Indian Music Experience, a hi-tech and interactive museum for traditional and contemporary Indian music.
Visvesvaraya Industrial & Technological Museum, with learning activities for adults and children.
There are several ashrams in Bengaluru, including the Sri Ramakrishna Ashram and The Art of Living Temple.
Travelling to Bangalore by railway
To make things easier for tourists, there is a Foreign Tourist Quota for unreserved tickets that you can buy on a short notice. You need to show your foreign passport to be allowed to buy a ticket on the Foreign Tourist Quota. Ask the staff at the railway station where to make your purchase, because you typically do it at a special section of the station and not at the normal window.
Mysore – Bangaluru
A very large amount of people travel back and forth between Bengaluru City and Mysore. If you want to do this trip (in any direction) and buy your ticket at the railway station, make sure you give yourself plenty of time because they lines tend to be long, especially on Sunday afternoons. Look for the special counter for Myrore – Bangaluru.
Mumbai – Bangaluru
Travelling by railway from Mumbai to Bangaluru is possible, but expect the trip to take at least 24 hours. Taking one of the direct buses instead is typically quicker; around 18-20 hours depending in traffic.
Sleeper class without air-condition is an economical way to travel by train between Mumbai and Bangaluru. Parts of the journey are very pretty, with views of evergreen forests and river valleys.
Delhi – Bangaluru
Travelling by train from Dehli to Bangaluru can take up towards 40 hours.
Railway stations in Bangaluru
There are many railway stations in Bangalore, each serving certain trains. Railway tickets can be booked online, at a railway station, or at the Indian Railway booking counters that exist in many commercial and residential areas in India.
Examples of major railway stations in Bangaluru:
< Krantivira Sangolli Rayanna Bengaluru, formerly known as Bangaluru City Station (IR station code: SB). Metro Green/Purple: Nadaprabhu Kempegowda Station:Majestic).This is the largest railway station in Bengaluru, and most local and long-distance trains arrive and depart from this station.
Yeswantpur Junction (IR station code: YPR). Metro Green Line: Yeswantpur StationThis is the other main railway station in Bengaluru. A few long-distance trains arrive and depart from it, and all trains towards Hubli stop here. It is possible to rent a room for sleeping at the station.
Krishnarajapuram Railway station (IR station code: KJM), by the Outer Ring Road. It is an important station due to being by the ring road and the station´s proximity to many large IT companies in Bengaluru. Well connected by bus to many other parts of the city.
Kengeri (IR station code: KGI), Kengeri Satellite Town, Kengeri. A very busy station due to it being close to major residential areas. It is also a major stop for all trains coming in from Mysore.
Travelling to Bangaluru by air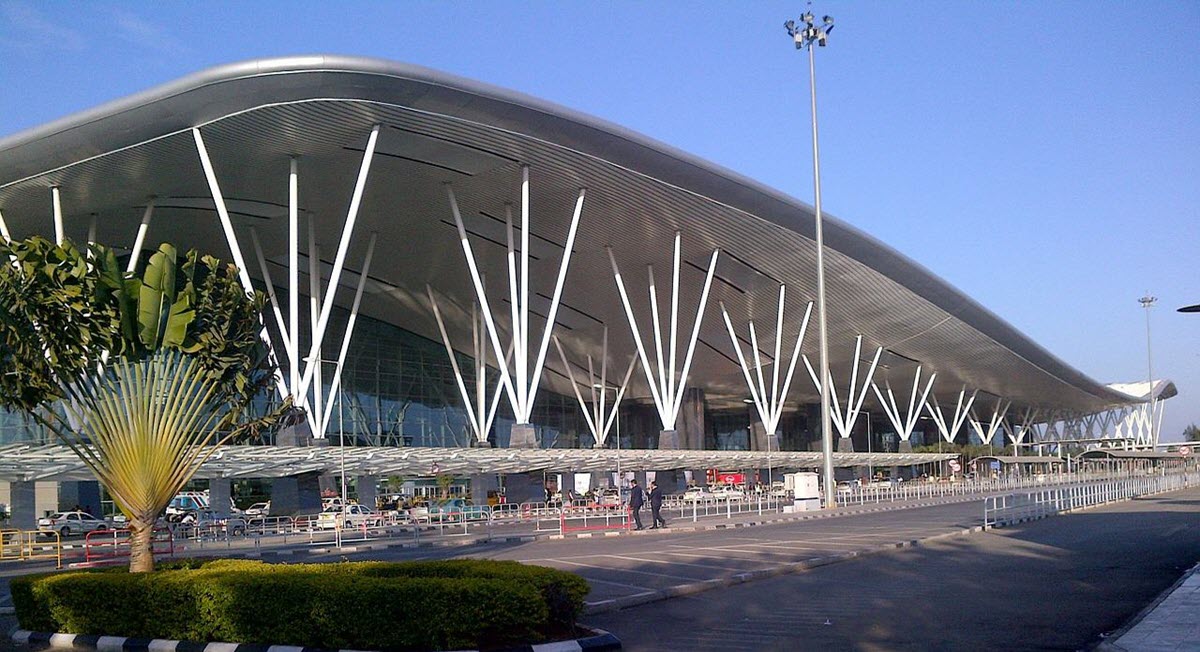 The major airport serving Bangaluru is Kempegowda International Airport (BLR). This is the third busiest airport in India, behind the main airports in Delhi and Mumbai.
In addition to receiving a lot of international planes, BLR is also a hub for almost all the domestic airlines in India, including IndiGo, SpiceJet, GoAir, and Vistara. The international terminal and the domestic terminal share the same building, but are on different sides. The larger international gates are on the eastern side.
From the middle of November to the middle of February, there is a risk of fog at and around BLR. Sometimes the fog is severe enough to cause operational restrictions, delays and diversions in the early mornings (3 am – 8:30 am IST).
Getting to the Kempegowda International Airport from other parts of Bangaluru by bus is fairly easy, as the Bangalore Metropolitan Transport Corporation (BMTC) operates buses from various points of the city to the airport every 15 minutes. Bus service is available day and night, seven days of the week. Of the circa 155 buses, 40 are air-conditioned and known as Vayu Vajra.